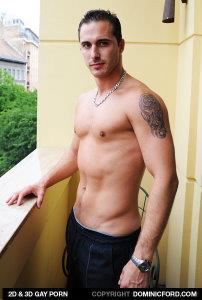 Gay p0rn model from Hungary David Excalibur, who worked with some gay porn studios is performing hot sex shows at livejasmin.

You cam meet him also at visconti triplets site and on Dominic Ford.
Watch him life:
aka: Leo Strong
Nationality: Hungary
Born: March 1982
Height: 5′ 9″
Weight: 168 lbs
Dick Size: 8″ uncut
He is a power bottom, bick dicks  give him much pleausure – he likes being in the middle of threeway. Buck is go-go dancer in Budapest. He acted in  gay porn in 2006-2008 period.
Adriano debuted in 2003, worked for a long time with Csaba Borbely. He filmed mostly in Hungary and France. One of his hobbies is horseback riding. He got a very pretty face!
One more great muscle hunk who is probably from Hungary. His career in porn was not long – he was active from 2004 to 2006.
He is also known as Vinnie Javelli in Bel Ami studios, where he was filmed in "Boy Watch".
Nationality: Hungary
Endowment: 8″ uncut
Chris have filmed not in many gay films and worked in the porn only a one year. He got lovely look and sexy hairy chest. He is karate master, and he likes this kind of sport best of all.
He is also a successful photo model in fashion industry and a well known hair stylist.
Nationality : Hungarain
Age: 30
Height: 6′ 0″
Weight: 200 lbs.
Dick Size: 6″ uncut
Sexual Position: Top
Luciano Endiano is a very nice hunk with sexy hairy chest. He used to top in porn films and worked in the porn industry only a couple of years. He was favourite star of Csaba Borbely, an European gay porn director. He is math and physics instructor.
Raul Hawkins started his gay porn career at the age of 20. He is into bodybuilding and has 19 cm cock! He got a masculine look with piercing and a smile that kills.
He is a perfect model, he got everything for it!
aka: Miklos  Olah, Jean-Paul, Jack Slader, Mickey.
Height : 5′ 8"
Dick Size: 8″ plump uncut
Sexual Orientation: Gay
Role: Versatile
Another one of the most well known hot gay porn star from Hungary, Fred Goldsmith. He is a type of a man you can always admire. He got very beautiful green eyes, muscular physique, soft tanned skin and nice dick.
Fred loves to cum when being fucked, can manage long time bottoming and likes hard dicks, vibrating fingers and both. In one word he's one hell of a guy.
Julian Vincenzo is a real hunk from Hungary, a very attractive gay porn actor with muscle body. Despite that Julian consider himself a bisexual, his  acting as  a top in gay porn films brought him the fame in adult industry and he got many gay Awards.
He is also a gay escort based in Hungary.
Movies I watched with him:
Colt Studio/Olympus
Hostile
Casting Coach
Bodyguards
Falcon International
Summer Memories
Hungarian Hunks
Studio2000:
Commando
Paradise Island
Twin Devils
Man at Play's Movies (available on-line): City Heights: Blind Date and Office Rivals, MAP – The live Show, One To One: Julian Vincenzo, The reception 3, Storeroom Secrets. Click for detailed description.
Julian on Maledigital:
|